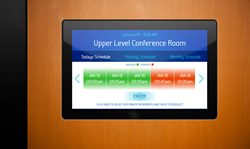 Hypersign, Avionexx LLC's award winning software, releases its new drop-zone application Hypersign Room.
Hypersign, the revolutionary digital signage software, is releasing the latest of its many outstanding drop-zone applications. Introducing Hypersign Room, a room sign application designed specifically for Samsung's Galaxy Pro.


With Hypersign Room, educators can sync calendar events using Google Calendar with scheduled support for Microsoft Exchange, iCal, and others! A room sign also operates as a fully featured Hypersign including Hypersign Alert, enabling it to assist in the event of an emergency. With being a 100% cloud solution, its total price point averages less than half of large competitors.


Neil Willis, CEO of Hypersign, says, "We are so excited to extend our digital signage modality to room signs. It places Hypersign into a group of elite companies that offer a scheduling solution for Universities, Hospitals and Business without the expensive cost. Our partnership with Samsung has grown more valuable by extending beyond the LFDs to using their mobile platform in a powerful and inventive way."


Hypersign Software is an award winning software product development company focusing on building products that improves the lives of people. The Hypersign product is known for its incredibly intuitive interface making it the perfect digital signage solution for education (K12 and higher Ed) and healthcare.